Hi lemours,
Today, i`ve been thinking of a new article and my one and only idea was to write about the trends
Everyone wants to be in the spotlight, but to be there you actually need to "upgrade" your style or yourself. That`s why we`re talking about nail art.
1. Flower it!
A great way to feel the summer is to wear the summer! And by that, i meant the summer spirit. Everyone loves fresh colors on the nails. Why dont you give it a try?
2. Metallic
Make your nails more spectacular by giving them a little shine! It`s the must-have of the summer: mix simple nailpolish with metallic.
3.Ombre Stripes
Sounds weird, right? Weird but beautiful, actually.
Try to make little matt effect when making it. If you dont have matt nailpolish (4 colors to be ombre), you`d better buy "Matt Top Coat" which is making matt effect from any nailpolish (including metallic, exept gliterry).
4. Lace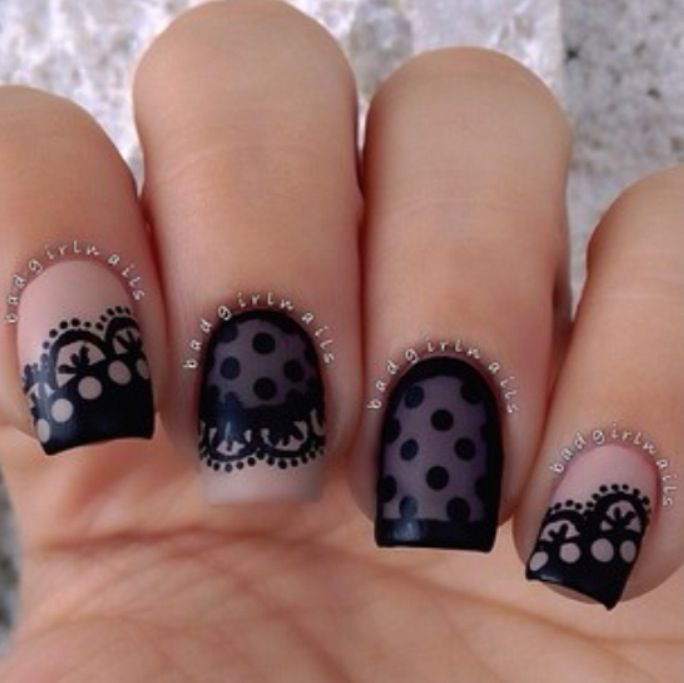 Kind of interesting process, but hard for lazy and not patient people. Patience first, my friends. To make these adorable nails, all you need to have is 1 or more nailpolish colors and nail stickers. For "advanced-level" i`d use nail stencils.
5. Intricate patterns
You can make an amazing pattern by using over 3 nailpolish colors and making them into an amazing composition. Use nail stencils as well.
6. Miss Classy
Even if you`re not a fan of nail art, i wanna warn you: you will be obsessed with it after doing a simple classy design which your friends and family will totally love. Nail stencils needed, but you can also use tape.
7. Mix it all
Creative cool idea: try to mix all the styles! Not all from here, but use your stickers and matt/beige/pastel nailpolishes for a nice result. Create everything you want with 2 types of stickers and nailpolish. Easy and pretty.
-
It was all for today :) And i hope you liked it.
If you want to read about different things, scroll down the recent posts
If you would like to request an article, easily contact me in the comments below with the theme. Nothing else needed
- Yasya