Герлен как всегда чудесный! И с новой коллекцией он показывает нам красоту лета, красоту которую все хотят увидеть в искусстве! Разве макияж Вам не искусство???
Герлен как всегда радует глаз своими упаковками, и цветами продуктов вообще-то тоже...
Терракота - Очень хороший бронзер от Герлен, который я считаю вполне нормальным. Я люблю бронзеры. Да, я люблю и пудру, и бронзеры :) Кстати, бронзер в оранжевой упаковке лимитка (Лимитированный) и продаётся в Сефоре за
$55.00.
И абсолютно все ставят ему 5 звезд. Имеет приятный запах.
А ещё милее когда Герлен запаковывает свои штучки в милые упаковочки. Да, не только цветастые, а ещё и милые :)
Также, Герлен не забыл про наши губки и сделал те цвета, которые нравятся мне и понравятся вам:
Блеск для губ Герлен - Guerlain Gloss d`Enfer в двух оттенках : Tangerine Vlam и Browny Clap.
Герлен а сей раз тоже выпустил тени, но сейчас - кремовые! Очень красивые цвета : голубой и золотой!!! Оказалось что они водонепроницаемые, Да... Продаются они вместе, наборчиком, и
Также хочу рассказать про Парфюм Teazzurra, который вышел в 2015 году.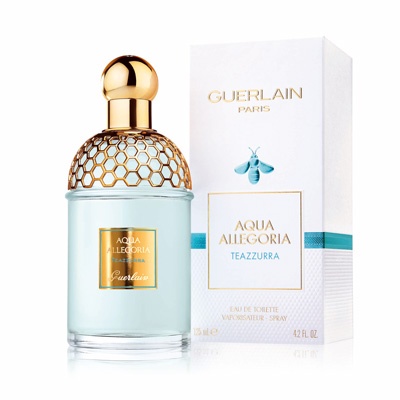 Парфюм имеет запах лимона ,бергамота, легкие нотки ромашки,жасмина,зеленого чая, но больше всего - запахи цитрусовых. Больше всего подходит на Лето и Весну. Можно сказать что это дневной запах. На E-Bay стоит где-то
$77.00.
Но наверное он этого не стоит...
Но к сожалению, парфюм мне не нравится...
хоть с одной стороны очень хороший, он сильно пахнет ванилью..
Также в коллекции можно встретить лаки, которые просто радуют глаз, ну и которые также можно перепутать с упаковкой от бронзеров :)))
А на ногтях милый голубенький лак смотрится так:
фото от
И вот вчера я была в магазине, и решила зайти в парфюмерный. Там я на прилавках нашла коллекцию Герлена, и хочу сказать что она очень хороша :) А лак - выглядит не так как на фото. Даже не знаю что с ним случилось... выцвел наверное...
Но всё таки коллекция смотрится очень мило, но блеск для губ меня заинтересовал больше,хах!
Подводим итоги,
МОЯ ОЦЕНКА - 9.10.
А именно - Бронзер слишком темный, Духи (хоть они почти не относятся к коллекции) - пахучие, а вот блеск для губ - чудеснейший! По этому - 9.10!
ENGLISH VESRION
Guerlain...It`s always flawless and amazing! And i really love it! And this summer, it want to show us all beauty of summer in art. Everybody love art, yeah? Isn`t makeup is art?
Guerlain always making us happy with pretty cool packages, and colors of products too...
Terracotta - really good bronzer from Guerlain, that i think is normal. I like bronzers :) Yes, I like blush and bronzers. And bronzer in orange package (from this collection) - limited edition item! Its $55.00 on Sephora.com ! And everybody put 5 stars for this product, but i really think that its too dark for me... But it have amazing smell!
But its more amazing when Guerlain make really cool and pretty packages for their products. Yes, not only cool and pretty, they are colorful too :)
photo by
martusiasworld.blogspot.com
Also, Guerlain made some pretty lip glosses that i really like! It`s called Guerlain Gloss d`Enfer Tangerine Vlam and Browny Clap.
Guerlain made an amazing crwam eyeshadow that looks very pretty! Yes, i love the colors too! Really great colors : blue (mint) and gold!!! And they are waterproof! Yeah!!! Yes..they are selling like a set, and I also want to say about Perfume Teazzura, that was released in 2015!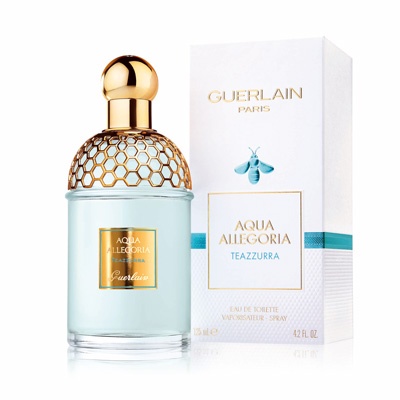 Perfume smells like lemon, bergamot, like camomille, jasmine, green tea, but the top notes is notes of cirtus. This perfume maybe only for summer and spring. I can say that this is pefrume for day. On E-bay It`s costs
$77.00.
But i think it is not worth it....
So sorry, but this Perfume is not very great. I dont like it..
But from other side, it`s normal, but instead citrus notes, it`s smells like vanilla...
Also,In this collection you can see really pretty nail polish, that just making us happy, i think, but we can switch them with bronzer packages too :)
Mint nail polish lookin` on your nails like that:
photo by
www.beautifulmakeupsearch.com
And yesterday I was at the mall, and i wanted to visit the perfumery shop (beauty shop). I saw Guerlain, and I want to say that this colllection is really good!!! But polish - it`s looks really bad... Not like on the photo. I don`t know really what happened...Maybe its faded
Well , collection is really good, but more intresting was lip gloss , hah!
So,
MY MARK
-
9/10.
Because - Bronzer is very dark, Perfume (that really, almost not included in the collection) is really "smelly" (bad vanilla smell), but lip gloss - is amazing!!! So it`s - 9/10!
Thank you, dear readers!
Bye-bye!
Спасибо,дорогие читатели,
Пока!